December 26th, 2007
Bahamian Burrows Swims Well For University of Kentucky....Read
December 21st, 2007
A Pan Am Swim Bronze Medal For The Bahamas....Please Read
December 10th, 2007
Carifta 2008 Summons.......Read
December 5th, 2007
Jeremy Knowles top Caribbean performer at US Long course Invitational....Read Story
Saturday November 10th, 2007
2007 Presidents Report.....Please Read
Friday November 2nd, 2007
The BSF has been notified that the Barracuda Swim Meet scheduled for this afternnon
and tomorrow has to be cancelled because of maintenance being done at the BKKAC.
The Barracuda Swim Club does apologies for the short notice and will let all clubs know
when the meet has been re-scheduled.
Monday October 29th, 2007
World Record for Natalie Coughlin in Singapore...Read Story
Tuesday October 23rd, 2007
BAHAMAS SWIMMING FEDERATION
BIENNIAL GENERAL CONGRESS MEETING AND ELECTION OF OFFICERS
NOVEMBER 10TH, 2007 4:00 PM
BETTY KELLY KENNING AQUATIC CENTER

NOMINATIONS FOR ELECTION OF OFFICERS SHALL BE LODGED WITH THE SECRETARY NO LATER THAN TWO (2) WEEKS PRIOR TO THE BIENNIAL GENERAL CONGRESS MEETING. NO NOMINATIONS SHALL BE ACCEPTED FROM THE FLOOR. EVERY CANDIDATE FOR ELECTION
TO OFFICE SHALL BE NOMINATED BY AN INDIVIDUAL OR CLUB MEMBER.

NOMINATIONS SHOULD BE SUBMITTED BY E-MAILING A COMPLETED NOMINATION FORM AVAILABLE ON www.bahamasswimmingfederation.com to bsf_news@yahoo.com or FAX to 324-0304
NO LATER THAN 28TH OCTOBER 2007 IN ACCORDANCE WITH BSF CONSTITUTION ELECTION OF OFFICERS AND VACANCIES C9.2

EACH MEMBER CLUB OF THE BSF SHALL BE ENTITLED TO SEND ONE (1) REPRESENTATIVE TO ATTEND GENERAL MEETINGS. EACH CLUB REPRESENTATIVE IS ENTITLED TO ONE (1) VOTE
ON ALL AFFAIRS OF THE BSF DURING THE GENERAL MEETINGS. CLUBS SHOULD SUBMIT THE NAME OF THEIR APPOINTED REPRESENTATIVE TO THE BSF BY E-MAIL OR FAX NO LATER
THAN NOVEMBER 6TH, 2007 USING THE APPOINTMENT OF CLUB REPRESENTATIVES FOR FEDERATION GENERAL MEETING FORM AVAILABLE AT www.bahamasswimmingfederation.com

BIENNIAL GENERAL CONGRESS MEETING

AGENDA

WELCOME

FINANCIAL REPORT

REPORT BY PRESIDENT

PROPOSALS FOR CHANGES AND AMENDMENTS TO BSF RULES

RELEASE OF OFFICERS

ELECTION OF OFFICERS
Tuesday October 16th, 2007
John Bradley has been invited to participate in the FINA 10KM World Cup Event in Cancun , Mexico
on October 20th, 2007. Seen after a training seesion with his coach and sister Stacey.
Monday October 15th, 2007
Coach Ben Sheppard visiting from Oakland Californa gives a talk to the YMCA Swimmers
Coach Shepard is a Fina Certified Level Five Coach who is based in Oakland, California and has an extensive
list of accomplishments working with both winning college teams, (UC Berkeley) and Olympic swimmers. Coach
Shepard was invited to the Bahamas by the Bahamas Swimming Federation to visit the swim programs and
give advice and assistance to the local coaches.
Sunday October 7th, 2007
Abaco Open Water 5K Swim
Full results | See photo gallery...
39 swimmers from Abaco, New Providence and Grand Bahama lined up to compete in the Bahamas
Swimming Federation's third 5K Open water Swim Race on Saturday, October 6th. The event was
to be held at the Abaco Beach Resort and was sponsored by Swift Swimming, the Ministry of Tourism and the
Abaco Beach Resort. Due to very rough seas, the swim course was moved to a location by the
ferry docks...a one mile course was designed.

By any measure, the race was termed a huge success with all partipants finishing, either as an individual or part
of a team. Everyone enjoyed the atmosphere and vowed they would be back again next year. Congratulations to
the Abaco community for hosting this event.
Tuesday October 9th, 2007
2008 Nationals approved as an Olympic Qualifying Event

The 2008 RBC Royal Bank of Canada National Swimming Championships has been sanctioned by FINA as an Olympic Qualifying Event. The date has been set as June 26th to June 29th, 2008 at the BKKAC and will appear on the Global Calendar published by FINA as an event where swimmers can qualify for the 2008 Olympic Games. Under the BSF Athlete Policy, every athlete who would like to represent The Bahamas at an International Meet in 2008 and/or 2009, including the Olympic Games, as well as all athletes receiving any form of Government and/or IOC/BOA Funding, are required to compete in this meet unless they have applied to the Federation for a waiver and the request has been formally approved. Athletes are also required to compete in the events that they seek to represent The Bahamas INTERNATIONALLY, without exception.
Tuesday October 2nd, 2007
Officials General Briefing Format from Pan Am Games...Read Format
Friday September 14th, 2007
All records have been updated thru August 2007
Monday August 27th, 2007
Algernon Cargill, President of the Bahamas Swimming Federation represents the Bahamas at the Pan Am Games
as a FINA Official!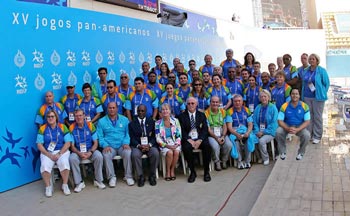 Friday August 24th, 2007
Bahamas Pan Am Swim Team Performances....Results
Thursday August 23rd, 2007
Amendments to Water Polo, Synchro CCCAN Programs...Read
Sunday, August 18, 2007
Bernie Butler Basra Marathon
The 37th Annual Bernie Butler Basra Marathon was held on the 18th of August 2007, at Lucayan Beach on GBI. This two mile open water swim attracts swimmers from around the globe! It is a major fund rasier for BASRA Grand Bahama. It encompasses the two mile race and shorter distances for younger swimmers.This year over a hundred swimmers participated. The first three males to finish were: John Bradley, Evante Gibson of Grand Bahama (YMCA) and Michael McIntosh (BSC). The first three female finishers were: Kadesha Culmer (FAC), Stacey Bradley (YMCA) and, Sabrina Barry The top time was 29:14. Hon. Mr. Byron Woodside Minister of State for Sports with the assitance of Hon. Mr. Kenneth Russell Minister of Housing, were on hand to present the awards.
Mr. Robbie Butler has swum in all 37 marathons
Results: Top Three Individual Age Group
Wednesday August 7th, 2007
Bahamian Swimmers Competing at World University Games 2007.....Read Story
Thursday July 26th, 2007
USA Swimming Coachs Clinic in Ft. Lauderdale, November 15-16....Read Details
Wednesday July 25th, 2007
Swimming Judging Rules....Notes from Pan Am...Read Notes
Sunday July 1st, 2007
CCCAN Championships - El Salvador
Medal Results | See photo gallery...
This was the most successful Bahamas Swim Team ever to compete at CCCAN, winning
a total of 22 medals.
Monday June 18th, 2007
Alana Dillette Bahamas National Swim Team Member and the Auburn University Womens swim team
visit the white house.
President George W. Bush stands with members of the Auburn University Women's Swimming and Diving 2007 Championship Team Monday, June 18, 2007 at the White House, during a photo opportunity with the 2006 and 2007 NCAA Sports Champions. White House photo by Chris Greenberg
Monday June 4th,2007
Bahamas National Swim Team Member Teisha Lightbourne
to join NORTHWESTERN Swim Team.....Read Story
Sunday May 27th, 2007
BAHAMAS SWIMMING FEDERATION
ANNOUNCES XV PAN AMERICAN RIO GAMES 2007 SWIM TEAM...Read story
Tuesday May 22nd, 2007
CCCAN Swim Team announced, most qualifiers ever...swimmers
Monday May 21st, 2007
Swift Master Swimmers make a big splash in US Nationals...Read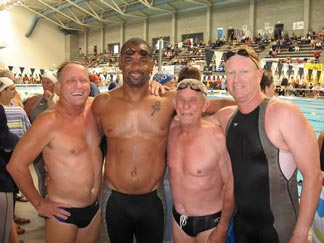 Tuesday May 15th, 2007
RBC Nationals Championships a great success, results posted....
Thursday May 3rd, 2007
RBC National Swim Championships May 10th - 13th, 2007...Psych Sheets
Friday April 20th, 2007
Bahamas Carifta Waterpolo Team Competes in Curacco.....Read Story
Friday March 23rd, 2007
Opening ceremony for Nationals 2007 has been changed...see attached
Wednesday March 21st, 2007
FINA approves RBC Royal Bank of Canada
BAHAMAS National Swimming Championships 2007 as Olympic Qualifying Event...Read
Sunday March 18th, 2007
RBC Royal Bank of Canada National Swimming Championships
Tuesday March 13th, 2007
Swimmers have an opportunity to design the picture & the logo for Nationals 2007 T-Shirt.
Sunday March 4th, 2007
Congratulations to the athletes who were selected to the CARIFTA Waterpolo Team
Sunday March 4th, 2007
Congratulations to all athletes who were selected to the CARIFTA Swim Team.
Sunday February 25th, 2007
ALANA DILLETTE MAKES NCAA 'A' TIME AUTOMATIC QUALIFIER
IN 100 BACKSTROKE

Alana Dillette has become the first Bahamian woman in swimming to achieve an 'A' automatic
qualifying time for the US National Collegiate Athletics Association (NCAA)
individual championships......Read Story

Friday February 2nd, 2007
Bahamas National Team member Arianna Vanderpool-Wallace was
honored with a great accomplishment being named to the All State Team
competeing with the Bolles swim team...CONGRATULATIONS ARIANNA.
Read Story at http://www.jacksonville.com/tu-online/stories/013107/ner_7597709.shtml
Friday February 2nd, 2007
For the latest news of the Carifta waterpolo championships 2007
visit our site at: WWW.SWIMNAZB.COM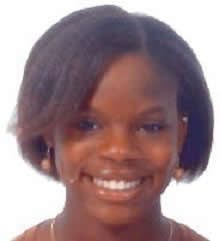 Thursday January 25th, 2007
Bahamas National Swim Team member Ashley Butler
writes about swimming at Bolles....Read Article
Saturday January 20th, 2007
Monday January 8th, 2007
Congratulations to the following athletes that have made the Pan Am "A" Time Standards.
Every Country will be allowed to enter a maximum of 2 swimmers that have met these
Qualifying Standards....qualifiers
Monday January 1st, 2007
BSF Time Trial