Tuesday December 12th, 2006
The following athletes have made the Pan Am "A" Qualifying Time Standard and are eligible for nomination by the Bahamas Swimming Federation to the Bahamas Olympic Federation for ratification to the Pan Am 2007 Team. Only 2 Athletes per event can represent The Bahamas. This is the information in our data base as at
December 12, 2006. Athletes based outside of The Bahamas are reminded to send their meet results along with an official Link to the meet Results Official Website to the Federation for inclusion in its data base. In the event of any errors or omissions, please do not hesitate to contact us at BSF_NEWS@yahoo.com
Wednesday December 6th, 2006
The BSF Swim Team at the US Open...Read Story
Full results | See photo gallery...
Monday December 4th, 2006
All Swimmers and/or Coaches and/or BSF Members are required to review the attached Publication from the World Anti-Doing Agency (WADA). No athlete or coach regardless of age/experience is exempt from Compliance....Read Document
For any additional clarity, please refer to http://www.wada-ama.org/en

Thursday November 30th, 2006
Saturday October 28th, 2006
Friday October 27th, 2006
Olympic Time Standards and Procedures Released...Read Details
Tuesday October 24th, 2006
US Open Swim Meet at Purdue University Nov 30th - Dec 2nd...Meet Info
Sunday October 15th, 2006
Abaco Open Water 5K Swim
Full results | See photo gallery...
43 swimmers from Abaco, New Providence and Grand Bahama lined up to compete in the Bahamas
Swimming Federation's First 5K Open water Swim Race on Saturday, October 14. The event was
held at the Abaco Beach Resort and was sponsored by Swift Swimming, the Ministry of Tourism and the
Abaco Beach Resort.

By any measure, the race was termed a huge success with all partipants finishing whether as an individual or part
of a team. Everyone enjoyed the atmosphere and vowed they would be back again next year. Congratulations to
the Abaco community for hosting this event.
Thursday, October 12th, 2006
BAHAMAS SWIMMING FEDERATION ATHLETE POLICY....Please Read A Must
Sunday, September 3rd, 2006
2006 A BREAKTHROUGH YEAR FOR JEREMY KNOWLES
2006 has been Jeremy's most successful year as a professional athlete. Since graduating from Auburn as NCAA Champions, 2006 saw Jeremy set several historic firsts for the Bahamas in swimming .In the process Jeremy set 8 new National Records, 3 long course and 5 short course. The new long course records were 200 fly - 1:58:25
50 fly-24.83, 200IM- 2:02.85. The short course records were 50 fly-24.54 100 fly- 53.40, 200 fly- 1:55.23, 200 IM- 2:00.52, 400 IM- 4:15.92
In March Jeremy finished 4th in the 200 fly at the Commonwealth Games in Melbourne, Australia, as well as making finals in the 400 and 200 IM's where he finished 7th and 8th respectively.From the Commonwealth Games it was on to the Short Course World Swimming Championships during April in Shanghai, China. In the 200 fly he made finals finishing 5th in 1:55.23. He was also 10th in the 400 IM in 4:15.92
On the 15th of July we traveled to Cartenega, Columbia for the CAC Games. Jeremy won 3 silver medals and 1 bronze medal leading the medal haul for the Bahamas. The silver medals came in the 400 IM, 200 Fly, 200 IM and the bronze came in the 100 fly. Jeremy accounted for 4 of the 10 medals won by the Bahamas and with the medal won by the senior girl's relay team, swimming accounted for 5 of the 10.
Then a month later (August) at the Pan Pacific Championships in Victoria, Canada Jeremy set a new national record in the 200 fly in 1:58.25 where he finished 7th in the finals with Michael Phelps setting the world record in 1:53.80. He also finished 7th in the A final of the 400 IM and 4th in the B final in both the 100 fly and 200 IM.
Jeremy's performance at each of the above 4 international meets were firsts for the Bahamas. He is presently world ranked in 3 events, 200 Fly (SC)(22nd) (LC) (28th), 200 IM (LC)(36th), and 400 IM (SC) (49th).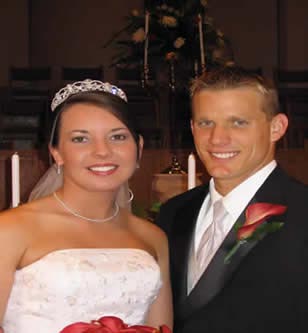 Sunday, August 27th, 2006
Abaco 5K Open Water Swim.....Race Info
Sunday, August 20, 2006
Bernie Butler Basra Marathon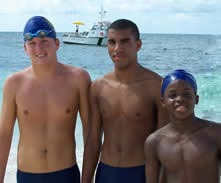 The 36th Annual Bernie Butler Basra Marathon was held on the 19th of August 2005, at Lucayan Beach on GBI. This two mile open water swim attracts swimmers from around the globe! It is a major fund rasier for BASRA Grand Bahama. It encompasses the two mile race and shorter distances for younger swimmers.
This year over a hundred swimmers participated. The first three males to finish were: John Bradley, Taylor Lewis and Evante Gibson, all of Grand Bahama (YMCA) The first three female finishers were: Jenna Chaplin (SWIFT), Jodi Curtis (YMCA) and, Kadesha Culmer (FAC) The top time was 29:31. Mr. Robbie Butler must be congratulated as he has swum in all 36 marathons and his top time is yet to be beaten.
Monday August 15th, 2006
SWIFT WINS 6 MEDALS AT MASTERS WORLD CHAMPIONSHIPS...Read Story
Tuesday July 18th, 2006
The Bahamas female 4 X 100 freestyle relay team who swam to a bronze medal at the CAC Games in Cartegena, Columbia. The team broke the CAC games record and set a new National record by 14 seconds in a time of 4:26:34. This medal is the first ever medal won by Bahamian female swimmers at these games.
In front from left, Arianna Vanderpool-Wallace, Nikia Deveaux. In Back from left Ariel Weech and Alana Dillette.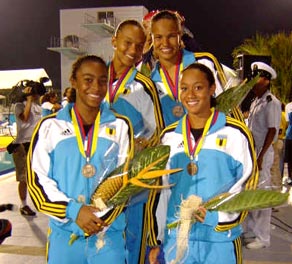 Female 4 X 100 freestyle relay team with Sir Arlington Butler - President Bahmas Olympic Association Sir Arlington Butler and the Bahamas female relay team who won the bronze medal at the CAC games in Cartegena, Columbia.
From Left Nikia Deveaux, Alana Dillette, SIR Arlington Butler, Arianna Vanderpool-Wallace, Ariel Weech.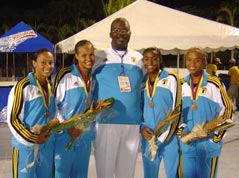 Thursday July 6th, 2006
RBC Royal Bank of Canada continues to show their support for swimming by sponsoring
the National Swimming Championships for 23 consecutive years.
Algernon Cargill BSF President accepts donation from Deborah Zonicle, marketing manager
at Royal Bank of Canada.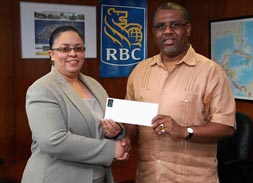 Saturday June 3rd, 2006
Basil Neymour Donates to the BSF on behalf of the Grand Bahama Carifta Swimmers!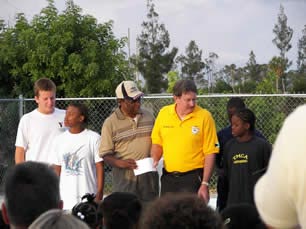 Saturday May 20th, 2006
The Bahamas Swimming Records have been updated.
Saturday May 12th, 2006
Congratulations to all athletes who were selected to the CISC Swim Team
Saturday May 12th, 2006
CONGRATULATIONS TO PERCY KNOWLES FOR WINNING THE 200M BREASTSTROKE AT THE US SC NATIONALS IN CORAL SPRINGS!
SWIFT SWIMMING MASTERS at the US Masters National Championships....Story
Monday May 8th, 2006
SWIFT MASTERS SWIMMERS TRAVEL TO U.S. NATIONALS
Sunday May 7th, 2006
RBC Royal Bank of Canada National Swimming Championships
Wednesday April 19th, 2006
Carifta Photographs by Bert Bell, Dale Knowles
Saturday April 1st, 2006
Carifta travel times on Bahamasair to and from Barbados are scheduled as follows:
Please be at the airport two hours before flight time.
04APR.06
Flt.961 dep. NAS 1400 arr. BGI 1730...Charter

10APR.06
Flt.964 dep. BGI 1500 arr. NAS 1830...Charter

Wednesday March 15th, 2006
Congratulations to the athletes who were selected to the CARIFTA Waterpolo Team
Tuesday March 7th, 2006
Congratulations to all athletes who were selected to the CARIFTA Swim Team.
Monday March 6th, 2006
Photos are now available from the Texaco Time Trials!
Your pictures are now available for viewing at Photos...
Just click on the link above to see your photos. If this link does not work, cut and paste it into your browser address, or you may access your picture by visiting www.backprint.com/timaylenphotography.
Please let your friends and family members know that pictures are available by forwarding
along this email or using our 'Send Photo to a Friend' feature. .
We thoughly enjoyed photographing everyone at the Texaco Time Trials. Our technology
and services are constantly evolving to bring you the most cutting edge event photography
experience. We'd love to hear your comments and suggestions on how we could better
serve the community.
Enjoy.
The Tim Aylen Photography team
Friday February 24th, 2006
Psych Sheets for Texaco Time Trials March 3 - 4, 2006
Saturday February 18th, 2006
Congratulations Travano
Travano McPhee set a new school record in the 100 breast (56.29) in the final round of day two, which was good for first place in the event. Earlier in the day McPhee came six-hundredths of a second (56.43) from tying the record he broke later that evening.
The Western Kentucky University record was broken during the Sun Belt Conference Championships at El Pomar Natatorium.
Friday February 17th, 2006
Summons for CISC Championships being held June 24 - July 1 in Puerto Rico
Thursday February 16th, 2006
Carifta 2006 Supporter Packages and Information
Monday February 13th, 2006
Carifta Qualifers thru 1st Texaco Time Trial Feb 10-11, 2006
Monday February 13th, 2006
Texaco Carifta Time Trials Photos
Sunday February 12th, 2006
Texaco Time Trials #2
Thursday February 9th, 2006
A very interesting and informative article by USA Swimming
a must read for all parents, swimmers and coaches read
Wednesday February 8th, 2006
Texaco Sponsors Bahamas Swimming Federation 2006 Carifta Trials...Read
Tuesday February 7th, 2006
Psych Sheets for Texaco Time Trials Feb 10th-11th, 2006
Friday, January 13th, 2006
The Bahamas Swimming Federation's policy on conversion between courses will be reviewed by the Technical Committee. Generally, if a Championship is to be swum in a Long Course Pool, only LCM times should be considered. It will continue to be recommended to the Technical Committee for endorsement by the Council that times used for converting between SCY to LCM or other courses will be used only in situations where there are no comparable LCM times for swimmers achieving qualifying standards in LCM courses. For International Meets where LCM times are stipulated as necessary by the Organizing Committee and/or the BSF, no conversion times will be considered.

USA Swimming Policy seems aligned with the BSF's strategic direction and this will also be considered by the Technical Committee.

What formula can I use to convert times between courses
Tuesday January 10th, 2006
Texaco Time Trials #1
Monday January 9th, 2006
Congratulations to the athletes that have made CARIFTA Qualifying marks during the Qualifying period. Carifta Rules allow the Bahamas to enter a maximum of 2 athletes in each event. The Technical Committee will review these times along with the times of other athletes who have not made qualifying times in events not listed in order to recommend a balanced CARIFTA Team, covering all disciplines to the Council for ratification. This information reflects the current BSF data base only and in the event there are any errors, please bring these to our attention along with the validating source data.
Monday January 2nd, 2006
ASUA Qualifying Times for 2007 Pan American Games.
Pan Am Games 2007 Time Standards
Please note that these time standards are lower than the current BSF Pan Am Time Standards. The Technical Committee will review to determine if these standards will stand and/or the BSF time standards will be utilized.

Sunday, January 1st, 2006
The Technical Committee agreed to adopt the US Junior National Time Standards as Qualifying Times for the World Youth Championships in Brazil - August 23-27. SHOULD the BSF send a team, these are the minimum qualifying times that will be considered for selection to the team. The qualifying period is Times Swam in 2006 up to the Entry Deadline.
Attached are the Qualifying Times BSF Junior World Time Standards
The 2006 Time Trials are being sponsored by TEXACO
and will be known as the
TEXACO CARIFTA 2006 SWIMMING TIME TRIALS
Many Thanks TEXACO
Saturday, December 31st, 2005
Alana Dillette Tribune's Junior Female Athlete of 2005
Tuesday, December 27th, 2005
Monday, November 14th, 2005